Hello everyone!
We are here with another festival blog!
This time it's the festival of Kawagoe city, known for its history and historical buildings. 
This festival, which has been held for more than 370 years, has not been held for the last 3 years due to coronavirus. After a 3-year gap, the Kawagoe Festival was celebrated on November 15/16 this year and I had the chance to join the festival as a spectator. Let's take a look at my experience and a little bit of the history of the Kawagoe Festival.

History

It is said that the Kawagoe Festival dates back to the middle of the 17th century, when the lord of Kawagoe Domain Matsudaira Nobutsuna donated a portable shrine and other festival-related items to Hikawa Shrine, which originally had just one festival called "Reitaisai" to show their appreciation to good harvest. Since the 'Reitaisai' could be joined only by shrine priests, the lord was concerned that the town lacked a big festival. His donation prompted the shrine to hold another festival called "Jinkosaii", which was soon joined by 10 neighborhoods of the shrine.



The Kawagoe Festival's strongest feature is the festival float event which reproduces the 'Edo Tenka Matsuri' festival.Spectacular festival floats carrying exquisitely crafted dolls are pulled around the center of Koedo-Kawagoe's landmark Kurazukuri (traditional architecture) Zone. Spectators will be overwhelmed by the sheer scale of the many festival floats as they pass by each other when meeting at an intersection.

My Experience

After 3 years, the return of the festival brought many people. Sometimes there was nowhere to walk on the streets. Also due to the opening of the borders, there were many foreigners at the festival.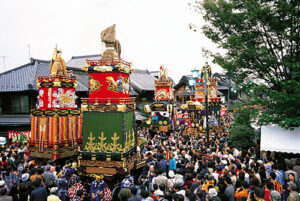 The historical beauty and culture of Kawagoe and the festival bringing people together and created wonderful scenes. The best moments, at least for me, were the performances of the 29 floats and the musical exchanges when they met. Especially after dark, the lights of the floats would turn on and illuminate the streets of Kawagoe.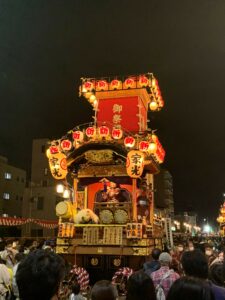 There were so many food, games, drink tents and so on. From kids to elderly everyone could enjoy the festival. All the tents had really long lines of people who were waiting to buy some delicious food and eat while they were enjoying the festival.
You can check more details on official Kawagoe Festival site here.