Hake Marche ~Dia de Muertos~
On October 31,  we held an event themed "Dia de Muertos", a traditional event in Mexico!
We are happy to see a lot of people come to this event even though it was drizzling on the day.
Mexican diner and some kitchen cars who are usually working in this Koganaei City collaborated with Angie (our staff member from Mexico) and provided guests with delicious special food in the food section.
Piñata
Piñata is a Mexican traditional activity. Candies and snacks are inside Piñata and children hit it to get them.
We made two "Dia de Muertos" version of Piñatas!
Craft
We produced 4 types of activities for children to have fun.
・Make a calabella (head of a skeleton) with a balloon.
・Mexican art on stone
・The Day of the Dead: Making the Wind Mask
・coloring book
Carabella balloon making is the most popular among children. There were various face tricks made in the venue.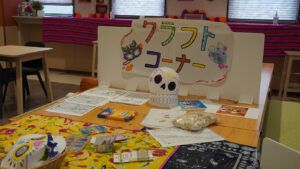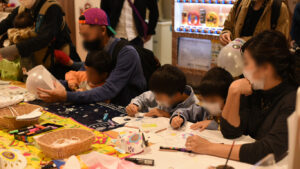 Pranks Coffee and Sayamaen -workshop
coffee roasting and Matcha latte art
Guests enjoyed the rare experience of coffee roasting. Matcha latte art was so cute.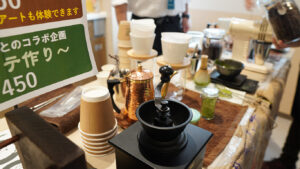 Mexican food & local kitchen cars
Tacos Mercado in Hanakoganei, Tokyo, prepared a lot of tacos. It was so popular that there was a long line for a while.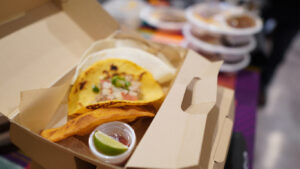 The kitchen carmakers who are usually active in Koganei (Charcoal-Grilled Fish Bento Kenbo-san, Gelato Okaji-san, PARITALY-san) teamed up with staff Angie from Mexico to create a new special dish.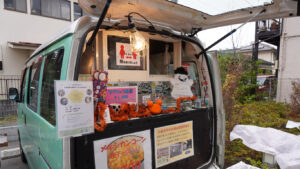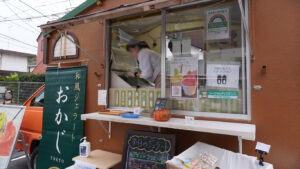 Spanish lesson and trivia of the movie "COCO"
The lecture was given by Hanakoko Spanish, a Spanish language school in the Tama area, at the lounge. The teachers told guests about the trivia of the movie "COCO." Everyone on the floor was listening to the lecture.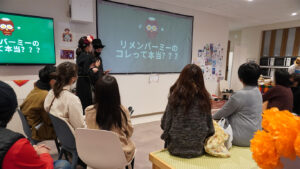 Music Show : Natalia Danae
We welcomed singer Natalia Danae from Mexico and held a music show.
She sang a wide range of songs from Mexican to J-POP like "Remember Me" which is a mix of Japanese and Spanish, and Aimyon and Hikaru Utada.
I fell in love with Natalia's angelic voice, which is soulful but somewhat cute. The 45 minutes music show went by so quickly!
The MC between songs was also very interesting!
Special Thanks for Companies participating in the Day of the Dead event
hanakoko spanish
PARITALY
PRANKS COFFEE
Tacos Mercado
VIVERO TOKYO
まごころ銘茶 狭山園 (Magokoro Meicha Sayama-en)
和風ジェラートおかじ  (Okaji Gelato)
炭火焼魚弁当けんぼ (Kembo Bento)
小金井市社会福祉協議会  (Welfare Conference of Koganei City)
Other articles
What is an international hostel like? Interview with hostel's multinational staff in Musashi-Koganei ;