Are you wondering… "I haven't had much chance to speak English recently …" "I'm interested in English conversation lessons, but I'm too busy to decide … It's hard to start." or "I want to speak English casually rather than study!!"?
Wild Cherry Blossom Hostel's original "English Cafe" is definitely for you!
This is a report about WCB English Cafe! Let me tell you a little more about it!
Contents:
・What is "English Cafe"?
・When is it held? What's in it?
・Voice of the participants
・To what kind of people do you recommend it for?
・How to apply
・Answer the quiz! (There is a quiz in the article!)
|What can you do in English Cafe?
English Cafe started in April 2020 and has been held every Monday since October 2020.
English Cafe was started because, due to the impact of the spreading of the coronavirus, it started a series of state of emergency in Japan too, that demanded people to stay at home. The hostel staff came up with a plan to offer something to the guests who are unable to stay because of the current uneasy situation. At first, we opened a Japanese cafe online for foreigners and tried to provide them with an opportunity to enjoy the Stay Home period. While holding a Japanese Cafe, we decided to hold an English Cafe where Japanese can come into contact with English, since it was not possible to leave Japan. When we first started English Cafe, we had a hard time attracting customers, but we tried to continue its promotion through SNS. We have been blessed with many wonderful relationships each time, and now, thankfully, there are some repeater customers. In this situation, it is gratifying to be able to meet the guests in a new way using the online tools.
At English Cafe, we communicate in English. Some people may find it difficult to use English. But don't worry! On the day, Japanese staff and Japanese speaking staff will be there to support you. Even if you haven't spoken English for a long time, you shouldn't refrain to participate!
Wild Cherry Blossom Hostel also has international staff from different countries and backgrounds. In fact, most foreign staff learnt English as a second language. We aim to create a place to enjoy communication through interaction with people from diverse backgrounds Speaking English with perfect grammar and accents is not necessary at English Cafe. Let's enjoy talking in English together!
| When is it held? What's in it?
The outline of English Cafe is the following:
Date: Every Monday at 20: 00 – 21: 00
Fee: 500 yen (Free for online participation *maybe in the future will be charged as well)
In order to have a real cafe atmosphere, we will serve hot tea or coffee, all included in the participation fee price!
*The date and time may change depending on the working hours of the staff.
Please always be sure to check the status of the weekly event on Instagram. In addition, if you apply through SNS, email, or our website, we will contact you directly as soon as possible to confirm your participation.
*During the emergency, we are switching to a full online (google meets) system. Everyone can also participate online, even if it is held at a hostel, so please feel free to contact us and let us know your participation method!
A typical English Cafe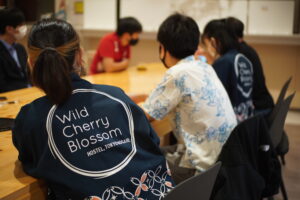 ▲ An ongoing English Cafe
At the English Cafe, the staff always gets ready original idiom quizzes and English conversation topics, and we will proceed mainly following them. But sometimes the conversation may change and sometimes participants lead it too!
20: 00h: participants gather! Start chatting with hot tea or coffee. There are people who participate every time and people who come here for the first time. If some people don't know each other yet, it is good to first make a short self introduction.

When everybody got each other names, the English Cafe section can finally start, around 20: 15! Today we have three idiom quizzes and two English conversation topics! There are many interesting English idioms. Here's the quiz! "Keep a straight face." Do you know what this is about? (The answer is at the end of this article!)

20: 30 – Starting with the main topic of the section, everybody is really excited to express their opinion. But also if guests have topics they want to talk about, they're always welcome to give suggestions and comments.

21: 00 Farewell greetings! If you are staying at the hostel, you can enjoy chatting even after the event.
|Participants voices
We asked our guests who have participated in English Cafe several times what they think about it!
A: "I learned about the English Cafe of Wild Cherry Blossom Hostel by seeing it shared on the Facebook page of the Mayor of Koganei. The staff who are good at speaking and listening create a pleasant atmosphere. I'm looking forward to participating because there are interesting topics every time! The English cafe is my most favorite time of the week!"
B: "I usually work as an office worker. I wanted to learn English, but I was worried that I didn't have enough time to study it seriously. I learned about English Cafe when I came to visit for the "Italian Fair *" event. It's not a monthly system, but you can join when you want to, so you can join easily. Also, the atmosphere is very cozy, so I can enjoy learning English."
In order to make learning English conversation more enjoyable, we hold these classes through trial and error every time. One of the highlights of an English Cafe is that you can learn about each other's experiences, cultures and ways of thinking through English conversation. We are also looking forward to meeting the participants!
*… "Little Italian Fair" was an event held last winter at Wild Cherry Blossom Hostel in cooperation with local shops. Under the theme of "Italy," at the event Koganei local shops such as kitchen cars participated by selling original menu in collaboration with WCB staff.
| Who should participate at English Cafe?
It is recommended for those who feel "I want a break from work and study.", "I use English at work, so I want to prepare for it.", and "looking for a new hobby"! Students, adults, and people of all ages come here. If you don't just want to speak English, but also want to connect with the local community, this is the right chance for you!
| How to apply
I told you about English Cafe this time! If you are interested to try, here is how you can apply! It's very easy: you can both apply from on this website, or send your name and the date you would like to participate by DM on the various SNS (Instagram, Twitter or Facebook). We will send you the confirmation and the details later! For in person and online participation, the procedures are the same!
Click here for the application form
| Quiz Answer!
Thank you for reading this! So… Did you know the answer to the quiz? "Keep a straight face " means… "I can hold back my laughter"! For example, when I had to be serious in class or at work, and I suddenly remembered something funny and feel to laugh, it is necessary to try to hold back the laughter and keep a straight face. Have you ever had this experience? This is a very interest idiom to learn. If you can't stop laughing, you can use it like "I could not keep a straight face."! By the way, "straight face" by itself means to "show no emotion on one's face".
Same at this one… At English Cafe, we will introduce to you some idioms that you can in various occasions! Join us to know more! ★
All the staff is waiting for you!!
🖊 WCB staff – Nanami
(translated by Yuina)