On October 2nd 2022, we held a festival to introduce our staff's countries which are Italy, Spain and Turkey. Welcome to the Koganei International Festival!
Luckily, we had amazing weather on the festival day but still, it was a little hotter than normal October days😎 .
Thank you so much to everyone who participated and helped us on that day. 😊
Let's jump right into the festival!
Kids Corner
Activities for kids;
・Paper hot air balloon (handmade)
・Paper rose (handmade)             
・Stained glass style painting
・Treasure hunt
These were 4 activities that the kids really enjoyed!
Some of the kids took their handmade crafts and brought their homes to put their rooms. As staffs, we are so happy to see kids really enjoyed our activities. 😊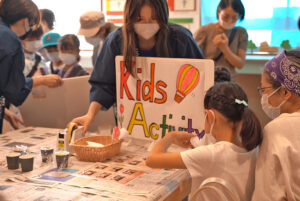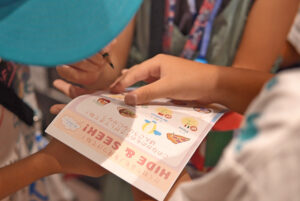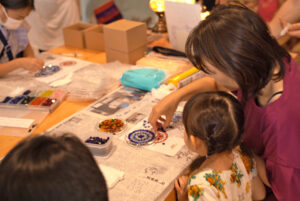 In the treasure hunt, the items near the entrance seemed to be a little difficult to find, so some kids asked for hints. That's why finding the treasure was so joyful for them, and we could often hear the cheerful shouts of "There it is!"
Performances & Workshops
We had various performances and workshops in the second-floor lounge.
西川千鶴フラメンコ教室 estudio Aixa gave us a gorgeous and spectacular flamenco dance show, it was a blast but also majestic and beautiful at the same time!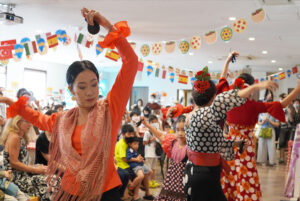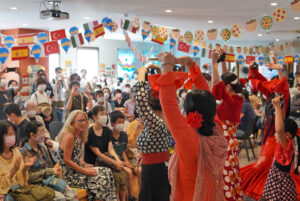 「小金井国際支援協会 KISSA」gave Japanese mini-lessons. Everyone, from children to adults enjoyed participating in the quiz and learned a lot. It was impressive that the whole crowd participated! The children tried their best to find the correct answer.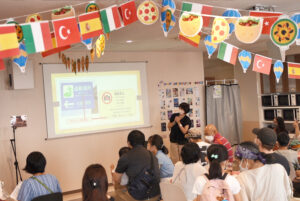 In the Spanish mini-lesson of ".「hanakoko spanish」" who always participates to our events, gave us mini Spanish lessons and also the hostel staff Chamo (Spanish) participated the lessons.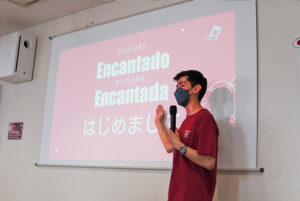 「トルコ文化センター」 gave us an amazing performance and melted our hearts with the traditional melodies of Turkey. 🥰
The Turkish Cultural Center also held a Turkish coaster workshop, but since it was a rare activity and hard to find, it was pretty crowded with interested customers from start to end.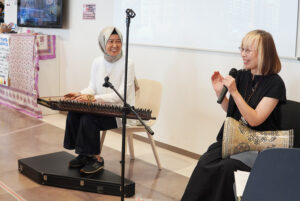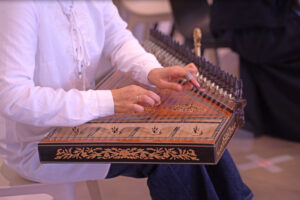 In every performance/activity, there were many customers who said, "I came to see Mr./Mrs. ○○'s performance!!", and we felt the strength of the connection between the local people.
In addition to these, on the 2nd floor, PRANKS COFFEE, where we always buy our coffee beans, served us their amazing coffee.
"Tenerife Dream" by photographer Victor Alonso showed us the artistic side, the southern part of Tenerife (Spain).
"Istanbul Photo Exhibition" by 星野安杏. " showed us the cutest stray animals in Istanbul and also the people.
PRANKS COFFEE's matcha latte was very popular, and many people bought it. The percentage of customers getting off the elevator to the first floor who had matcha was extraordinary and memorable. 😂. The photos in the photo exhibition were just beautiful.
Although the restrictions are being lifted little by little, it is still difficult to go abroad, we hope that many people enjoyed the atmosphere of our festival and felt like they were on vacation.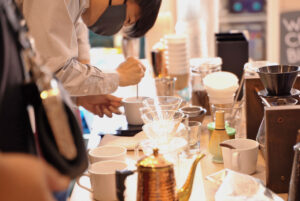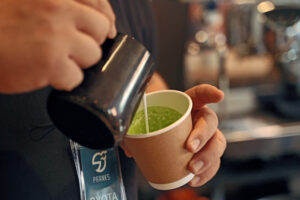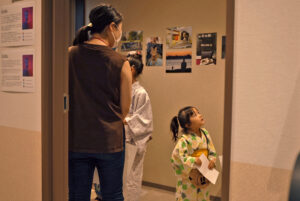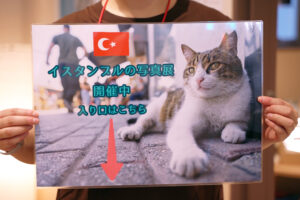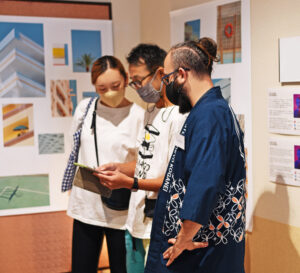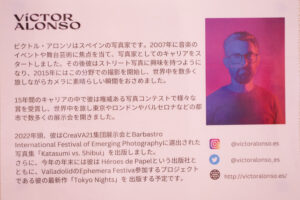 Paritary sold jams and baked sweets which they made by using Koganei vegetables and fruits! It was very delicious and gentle taste💛 the cake was also sold out!
Next to that, the daily necessities and sweets shop 日用品とお菓子のお店 sofar-ソファ sold baked sweets and miscellaneous goods! It was impressive that the fans of the shop asked the staff, "Where is the Sofa stand?" Many things were also sold out in a blink of an eye.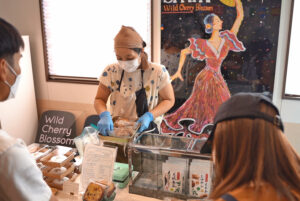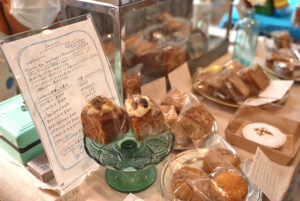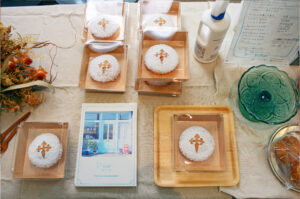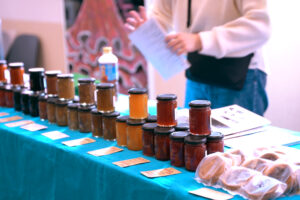 Thanks to Sofar and Paritary, atmosphere was wonderful! 😊
Kitchen Cars and Stands
On the 1F, kitchen cars from stores that are operating in the Musashi Koganei area, offered authentic cuisines from Spain, Italy and Turkey. So visitors could enjoy food related to these countries. All of the kitchen cars and shops were so popular, there were lines really long!
HAMA KEBAB's kebabs were very popular, and many people could eat but at the same time, so many people couldn't because it is sold out so quickly. According to another staff member, the spiciness of the kebabs seemed to have been adjusted to Japanese tastes, so they were easy to eat!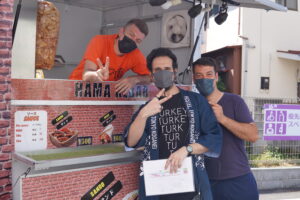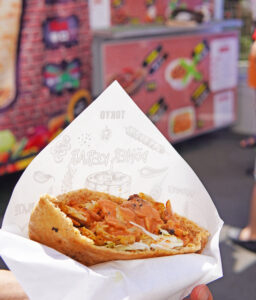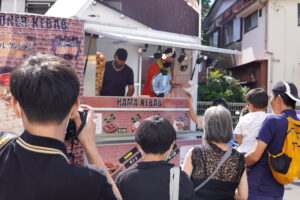 ジェラートおかじ was selling Italian flavors such as tiramisu, and olive-flavored gelato. We wondered what the olive flavor would be like, so we tried it out of curiosity. It was a delicious!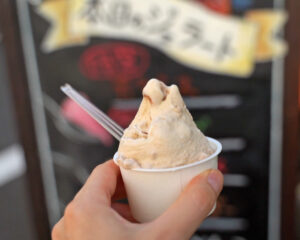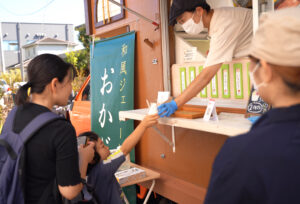 Happily Pottery had 3 kinds of pizzas which are Italian, Turkish, and Spanish-inspired pizzas. The pizza boxes were genius, with all the varieties in one place so you didn't have to wonder which one you were going to eat! After the festival, it was impressive to see staff members from different countries arguing about which pizza was the best from their country 😂.
They were all so delicious and different from the pizzas we normally eat in Japan!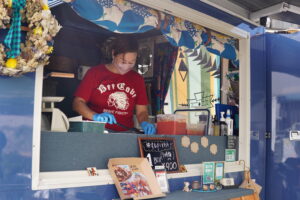 Other vendors were ムジナの庭, らく福祉会, NPO Kiba no Kai Liveworks, and Community House ALBA KOGANEI, which sold baked goods and handicrafts from their respective workshops.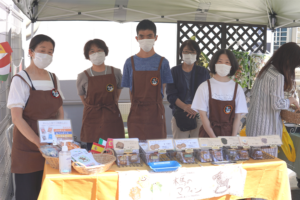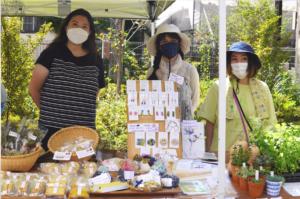 Photos of hostel staff members Rena and Chamo were also displayed on the wall from the entrance to the back of the hostel!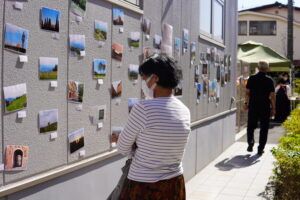 Special thanks to everyone for participating in our 4th Koganei Festival "Koganei International Festival"
「トルコ文化センター」さん
Paritaryさん
日用品とお菓子のお店 sofar-ソファ-さん
PRANKS COFFEEさん
西川千鶴フラメンコ教室 estudio Aixaさん
「hanakoko spanish」さん
「小金井国際支援協会 KISSA」さん
ジェラートおかじさん
Happily Potteryさん
ムジナの庭
らく福祉会
NPO木馬の会 ライブワークス
コミュニティハウス ALBA KOGANEI