Hello everyone! This is Wild Cherry Blossom HOSTEL from Musashi Koganei, Tokyo.
Have you ever wondered, "What's a hostel like?".
We interviewed 5 international staff members who have been part of the hostel since its opening, and they are here to tell you about our attractiveness and features that are different from other accommodations such as hotels! Please enjoy it!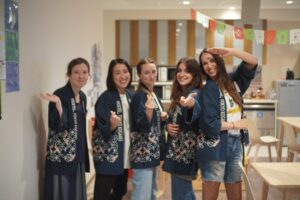 Staff members since the Hostel's opening. From left: Mana, Tomo, Alla, Rena, and Angie.
The multinational staff can speak Japanese, English, Russian, Spanish, Italian.
―― Thank you for taking time out of your busy schedule today! First of all, I'd like you to introduce yourselves. You are all from different countries. May I ask where you are from? And tell us about what makes you feel proud of your country!
Mana: I'm from the United States of America! There are many historical buildings and landmarks that are easy to visit. I think is perfect for tourists!.
Tomo: I'm from Japan! Japanese food is also famous overseas. The delicacy and details you can find by tasting Japanese food. Also, I think I can be proud that it is relatively safe.
Rena: I'm from Italy! The food, the fact that from North to South, everywhere it is rich of amazing art and historical cities. Also the heart warm hearts of the majority of the people.
Alla: I'm from Ukraine! I think the charm of Ukraine is the beautiful architecture and the culture that has grown in history.
Angie: I'm from Mexico!  people, in general, are very friendly and welcoming, after 5 minutes people can get as closer as brothers or sisters! We have a very strong sense of union and support among family, we love our food and love our traditions. I really miss the colors, the smells, the smiles and loud laughing of people, and that chaotic but magical energy of my city!
"Even if you are away from home, there is a second home here."
―― Thank you! There are still so many countries I would like to travel to one day! I got so excited to listen about yours!. Ok, From now on, I would like to hear a lot about your thoughts as a hostel staff member. What kind of place is Wild Cherry Blossom Hostel for everyone?
Alla: There is a saying 'Home is where your heart is'. I think WCB is a place that I can call my "second home."
Mana: By providing our guests with a comfortable place to stay, we think this hostel is the place where they can learn more about the Tama region and Japan. This hostel also introduces sightseeing spots in Koganei, Tama area!
Angie: Second home away from home, I feel any person from any nationality or background can find in here a warm and cozy ambiance, For a member staff it is a place in which one can be herself, feeling a big sense of freedom for self-expression, everyone here can share new ideas and involve others to grow together.
Tomo: It's part of my life. We are good friends even in private. We are co-workers and friends, and I think we have built a very good relationship where we can help each other if something happens.
Rena: After studying for years the Japanese language and culture, working at WCB for me mean that all the efforts were not worthless. Also my original idea of "Finding a job in Japan" was more like always accompanied by the idea that every company here is standard, strict, with a lot of overwork, plus with no chance of creating a bond with the coworkers. But (I don't really know how come I've been this lucky) WCB made me change my mind. So it also means to me that things can be surprising.
"Finding a New Tokyo in a Place called Musashi-Koganei"
"Wild Cherry Blossom Hostel's Attractiveness is the" Heart "of Staff"
―― The phrases "a comfortable place for guests" and "a second home for the staff" are impressive. I also think Wild Cherry Blossom Hostel has a warm atmosphere. So what do you think makes Wild Cherry Blossom Hostel stand out from the competitive facilities?
Tomo: I think there are two points. First, Wild Cherry Blossom Hostel is one of the few hostels in West Tokyo. Our hostel is in Musashi-Koganei, the South part of Tokyo, but unlike downtown Tokyo, it is a place where you can enjoy the relaxing atmosphere of Tama. Also, the access is very good. You can go to Shinjuku within 30 minutes by Tama Chuo Line, and it takes less than 1 hour by Shibuya or Roppongi. I think it is attractive that you can casually enjoy various places in the city center and the nature the Tama area offers.
Secondly, our hostel is thankfully very connected to the local Koganei area. For example, we hold English cafes and yoga classes regularly thanks to the local people who support us. The tea and coffee served at the hostel are the products of Sayamaen in Tachikawa city and Pranks Coffee in our neighborhood Koganei. We are making these connections little by little, and I appreciate it very much.  In the future, I would like to hold workshops such as kimono dressing experience, calligraphy experience, and tea experience using the connection we keep with local shops full of charm and people active in various fields. It's difficult now because of the influence of the spread of the coronavirus, but I really want to make it happen and offer all this to foreign people.
Mana: We staff think of each other as a family. As we are close to guests, I think we can create a comfortable environment for guests. The warm atmosphere and friendly staff are popular among customers.
Rena: The variety of the staff, both in terms of nationality, mindset, range of age, and gender. It's not the usual/standard "omotenashi", it's something more than only those who have the chance to stay here could feel. There are guests ranging from students to adults, and I feel that staff from various positions have been able to come up with ideas from each other's point of view and think about creating a comfortable environment for our customers. There are also rooms for 3 and 4 people, which are rare in hostels. I think it is easy to use with family and friends.
Alla: "Heart". WCB members put their heart into what they are doing. This is, I believe, what makes us stand out.
Angie: Yes. We really care about our customers, we want to make them feel as this was their home, we appreciate having them here and be part of WCB, even they check out, we will be happy to have them here in our events or activities in the future!
"Bonds with people"
―― Thank you for the wonderful story! We want to continue to be a hostel loved by the local community and guests from all over. Well,  you all have been here since the hostel's opening.  What was the most memorable moment you have experienced here?
Alla: There are so many. Can't pick up one only! (Laughter)
Tomo: I really can't choose … All time is such a precious memory… If I had to choose, it would be the time to meet friends at Wild Cherry Blossom Hostel. For example, a friend of mine came to visit us at an event, or on a weekday, a previous guest once staying at the hostel now a friend of mine suddenly came to visit. Eating Rena's pasta that she prepared in the hostel. Wild Cherry Blossom Hostel is a hostel, but it's really a place to connect with people.
When we meet again outside, people naturally talk about Wild Cherry Blossom Hostel, and when we talk about it, people come to visit us. And I think it is Wild Cherry Blossom Hostel's greatness that we can warmly accept all of you who have been guests. All the staff has different personalities and ways of thinking, so I think they have a good balance. Having to work here is a treasure of life that I will never ever forget, and I hope it continues forever!
Mana: I liked it when people from overseas came and stayed here before the coronavirus spread. When the situation calms down and the border opens again, I would like a lot of people from all over the world to stay here.
Rena: It's hard for me to choose, but I'd like to show you three!
1) On the day it was officially opened, all the staff was nervous, but I was looking forward to welcoming many guests. (* '▽')
2)When Angie joined the team! We were able to make a new start with 5 people!
3)Mexican Festival. In early summer, we held an event with local restaurants and general stores under the theme of Mexico, Angie's hometown, for the local people. As the difficult situation has continued since last year, we had many discussions about holding the festival. In the end, we decided to hold the event on the condition that we check our health and make the best use of the outdoor area. The members of Wild Cherry Blossom Hostel worked together to create this project, and I am grateful for the wonderful encounter we had with the local community. I was also very happy to meet my friends, those who participated in the English Cafe, and those who stayed as guests. We have the motto "Where Connections Bloom ". I think it was an event that realized that motto.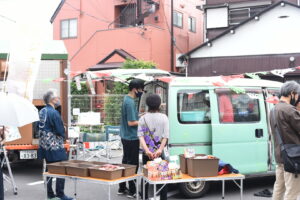 There were gelato shops, tacos shops, bento shops, coffee workshops, Spanish lessons, and so on!
Angie: As Rena mentioned I would say there are a lot of memorable moments, but I really enjoy so much the Mexican Festival event we hold here, we had a Pinata party and everyone was so excited and a lot of kids participated! It was a precious moment for me!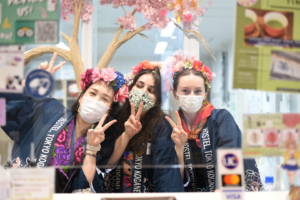 Staff at the Mexican Festival. The colorful flower decorations look really good on you! (From left: Tomo, Rena, Alla)
Challenges for the future
―― Thank you for many wonderful episodes! Lastly, What is your vision for WCB? Is there anything you would like to challenge as a hostel staff in the future of Wild Cherry Blossom?
Mana: After the situation of Corona has settled down, I would like to accept many foreign customers.
Alla: Same as Mana. I hope to see WCB full of foreign guests in the near future!
Angie: I would like to have more cultural events in which we all can learn from different countries, their food, and traditions!! I'm also looking forward to having more visitors from all over the world so we can do oppositely the same and share the Japanese culture and traditions with them!
Rena: I think everybody is waiting for the situation to be back to normal in order to finally introduce and create tours for foreign tourists who want to discover and explore this area! I just want WCB to become popular for the people living abroad as well, and when they will come to Tokyo for a second, third time they will think about us because we left them a reason to be back.
Tomo: When the situation of Corona calms down, I would like to increase the events I can plan! I want to plan an event by myself. Koganei is geographically and historically interesting as there are many slopes and each slope has its own meaning. I'd like to plan a tour around slopes and history. Also, yoga is my hobby, so I want to plan yoga events too!
―― Thank you very much everyone for today!
How was it? The staff working at the Wild Cherry Blossom Hostel told us a lot about the charm of this hostel! We will continue to tell you about the charm of this hostel through our blog. Please check it out!
Please check the news page of this blog for events, remote work plans, etc., and check the information of facilities for accommodation. I'm looking forward to having you all as guests soon.
🖊 WCB staff – Nanami